Thank You All For Coming Out And Meeting Our Neighbors!
What a great opportunity the National Night Out movement has provided for us all to come together for a much needed time of friendship and trust!
This night turned out to be the perfect atmosphere for bringing our community closer together while we build relationships and trust with our local law enforcement, emergency workers, first responders and city leaders.
Thanks for Joining us for some Food, Fun, Friendship and Fellowship!
Thank You Oakley Dominos!
Oakley Dominos served 200 slices of pizza at the event.
Our local businesses are kicked in for this important community occasion 🙌
If your business would like to join us in 2020, please email us: welcome@oakley.church
All of our Oakley community who are interested in participating in a safe, peaceful and friendly family oriented gathering are welcome to join us!
Just show up on August 4th 2020 at Crockett Park located between Richard Ave. and Empire Ave in Oakley, between 6:00 & 8:00pm
Here's how our plans went:
We are planning and adding to the plan as we go toward 2020, but here's what we arranged for 2019;
Free Life Vests for the first 100 kids infant thru 90lbs. ✅
Free - Up to a total of 200 slices of Oakley Dominos Pizza - First come, one serving each while supplies last ✅
Jumpy With Slide from Ozone Party Rentals. ✅
Raley's Oakley donated a $50 gift card that purchased water and ice. ✅
Trader Joes Brentwood donated water melons and chips to go with the pizza! ✅
City Council member addressed the crowd. ✅
Oakley Police Officers ✅
Oakley Police K-9 Unit Demo. ✅
Oakley Police Chief ✅
East Contra Costa County Fire Dept. - Three Firemen and a truck ✅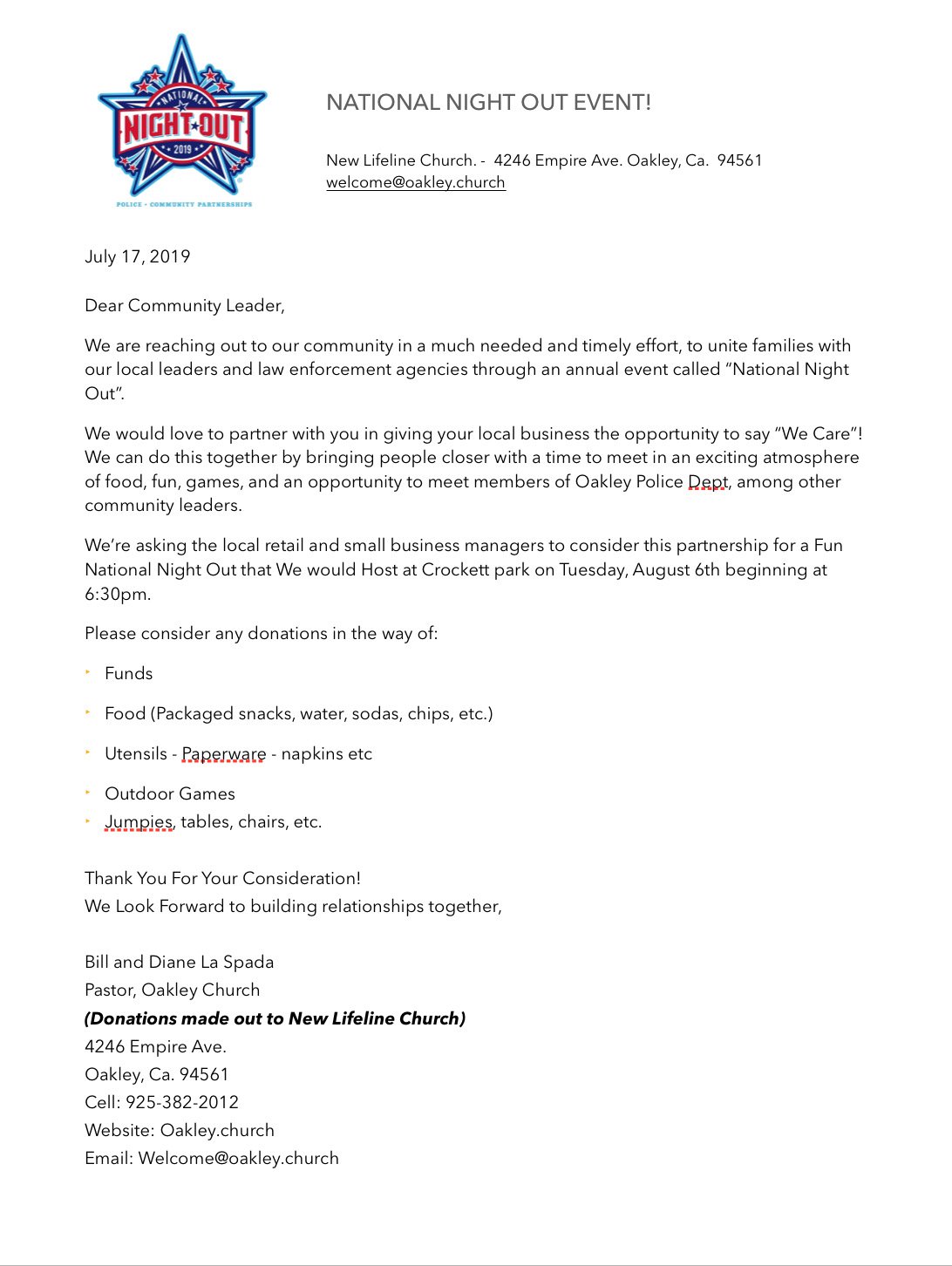 Sign in below if you'd like to join us for an event