Join Us This New Season!
"To be a Christian without prayer is no more possible than to be alive without breathing" -MLKJ-
Prayer time is first a personal encounter with The Creator by way of His Holy Spirit. There is a book called "40 Days with The Holy Spirit" that is useful as a daily devotional during this time. Also "40 Days With Jesus - Encountering Jesus In The Gospels".
Prayer time is the most powerful time we can spend on behalf of our family, our friends and even our enemies. Praying that God would reach and impact our community, saving lives and consistently providing "A House Where There's Hope" and where people can begin to increase and seek increase in the lives of others. A great resource on the power and disciplines of prayer are books from Dutch Sheets - See this link for downloading an ebook:
Prayer time will spark revival in You. This is where revival begins and our hope is for the uncontainable Spirit to incite massive change in us as we seek Him and seek to reach the lost.
We believe prayer is the fuel that is about to set revival in motion in this country like never before! Think of the resistance throughout history to the presence of God in societies since the beginning of time. To every weapon, scheme, plan, and attack by Satan upon a society under the influence of prince of darkness himself, GOD has always used the attack as a way to usher in revival! No one can argue the changes that are unfolding which go directly against, and in attack of the very Word of God, especially here in the state of California. We believe continued prayer will continue His plan to awaken the hearts of the lost and found to be drawn to Him!
2 Chronicles 7:14 (NKJV) - "if My people who are called by My name will humble themselves, and pray and seek My face, and turn from their wicked ways, then I will hear from heaven, and will forgive their sin and heal their land."
Joining us?
Types of Fasts
The fast you choose should present a level of challenge, but it's important to know your body, your options, and most importantly, to seek God in prayer and follow what the Holy Spirit leads you to do. Fasting requires reasonable precautions. Please consult your physician prior to beginning your fast, especially if you have any health concerns, you are taking any medication, have a chronic condition, or are pregnant or nursing. Here are some types of fasts you can consider:
Complete Fast
You drink only liquids, typically water with light juices as an option.
Selective Fast
You remove certain elements from your diet. One example is the Daniel Fast, during which you remove meat, sweets, and bread from your diet and consume water and juice for fluids and fruits and vegetables for food.
Partial Fast
This involves abstaining from eating any type of food in the morning and afternoon. This can either correlate to specific times of the day, such as 6:00 am to 3:00 pm, or from sunup to sundown.
Soul Fast
This is a good option if you do not have much experience fasting food, have health issues that prevent you from fasting food, or if you wish to refocus certain areas of your life that are out of balance. For example, you can choose to stop using social media for the duration of the fast and then carefully bring that element back into your life in healthy doses at the conclusion of the fast.
FOR MORE INFORMATION CHECK OUT JENTEZEN FRANKLIN'S ANSWERS TO THE MOST COMMONLY ASKED FASTING QUESTIONS.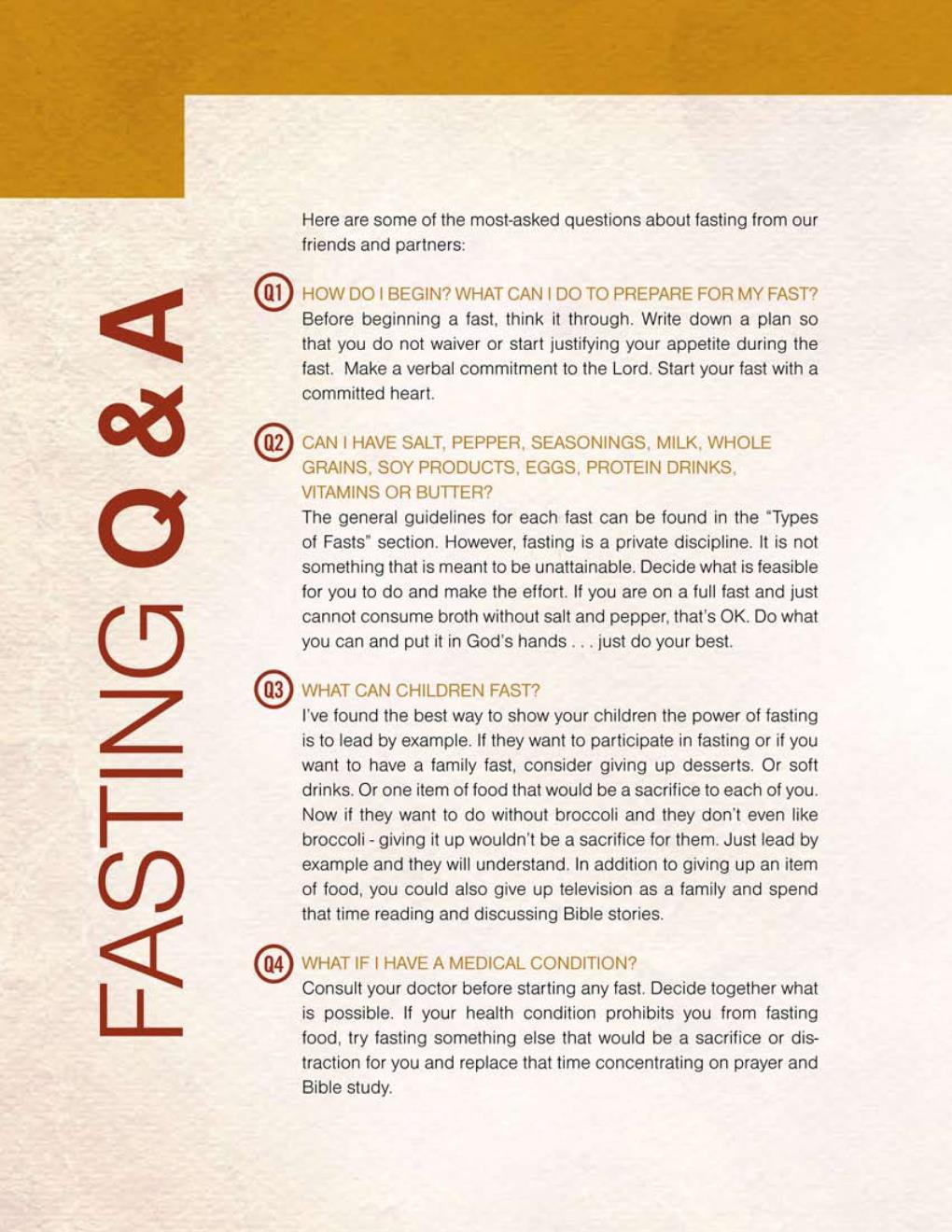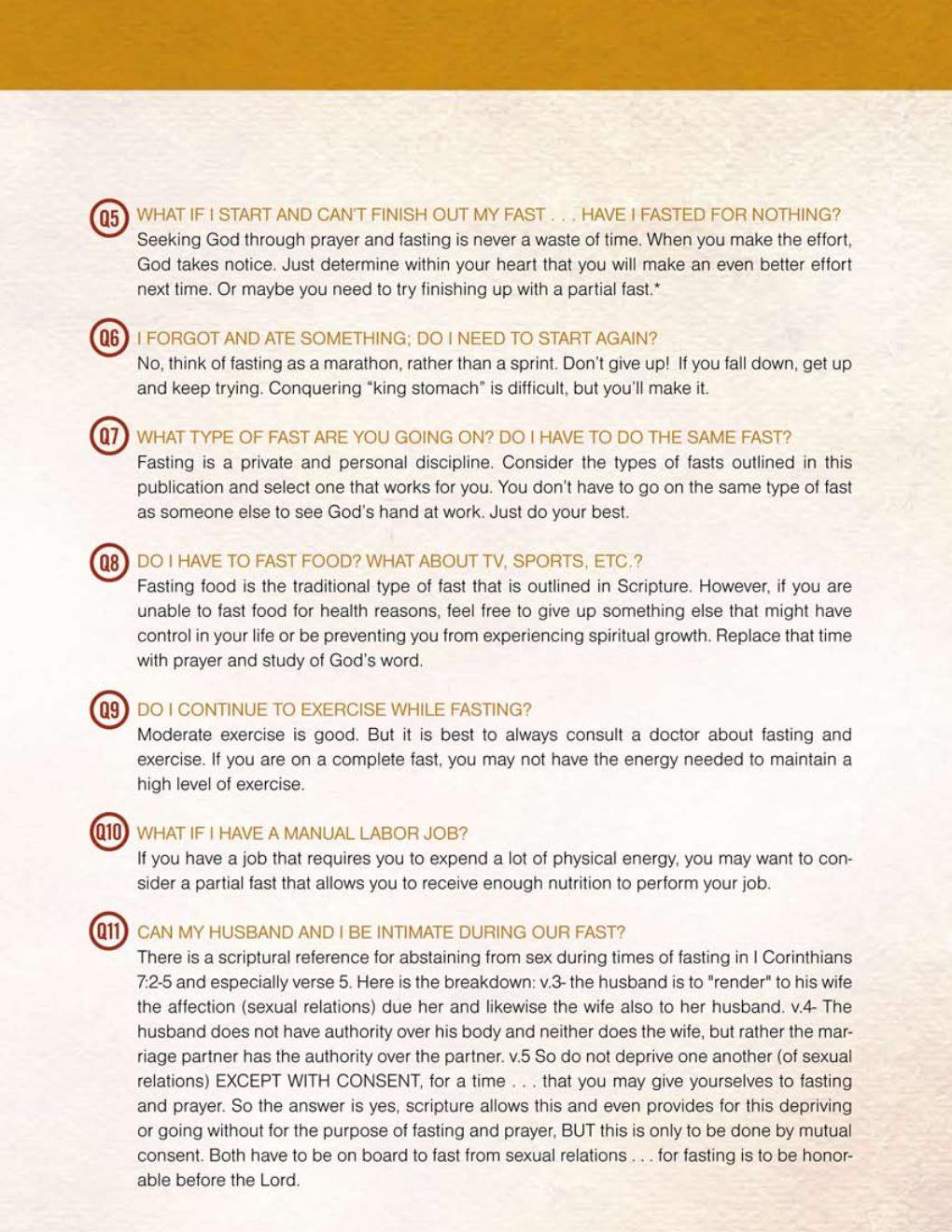 Need Prayer?